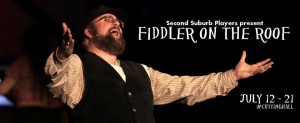 John F. Di Leo was born on a cold Thanksgiving Day in Chicago, Illinois, on November 22, 1962 A.D… so it shouldn't surprise anyone when a failed pun or bomb of a joke makes him look like a turkey.  By the age of one, perhaps anticipating that he would grow up on the opposite side of the Chicago political scene, his parents moved him to the suburbs… the south side of Evanston, to be specific, just over the line from Rogers Park, walking distance from Gulliver's and the Pickle Barrel.
Education:  John attended Oakton School for kindergarten, then St. Nicholas (then a fantastic experimental school, utilizing Individually Guided Education, or IGE at the time) through sixth grade, when his family moved to Park Ridge. There, he attended Mary, Seat of Wisdom school, and summer programs in the local public schools, and Marmion Military Academy in Aurora, Illinois, a boarding JROTC college prep school run by Benedictine monks and the U.S. Army.  He finished his education with a B.A. in political science and history from Northwestern University, where he served as president of NU's Young Republican chapter and participated on the board of The Northwestern Review.
Theatre:  John participated in numerous school plays as a child, in the era when park districts didn't offer much of that sort of thing… the first title he recalls was West of Pecos, in Junior High at MSW.  His first community theatre production was a children's production of A Christmas Carol, directed by his tap dance instructor, Betty Bryant, then in the process of forming the Park Ridge Players, which his parents, Fred and Marcella Di Leo, soon joined.  John joined a small children's touring company, the Ridge Players, while in high school, and also had the thrill of playing Jim Hawkins in Treasure Island at the Red Barn Theatre of Rice Lake, Wisconsin.  Upon graduation from high school, he was able to join his parents both on the stage and on the boards of the Park Ridge Players and also the Maine South Adult Players.  With those troupes and others he had the fun of playing great parts like CK Dexter Haven in The Philadelphia Story, Jonathan Brewster in Arsenic and Old Lace, Jesse Kiplinger in Plaza Suite, and Harlon Edison in The Gazebo.  John was even in one movie, playing Dr. Wallace Shaun in The Creature from Lake Michigan (filmed in 1989, finally released in 2010).  John has also directed, produced, and done publicity for these and other troupes, and then he took twenty years off before returning to the stage with his children in Palatine.  Since his return to the stage, he's played Tevye in Fiddler on the Roof, Jerry in Squabbles, and John Jacob Astor in Titanic.
Trade Career: John has spent most of his career in international trade.  Outside of a year as a dispatcher for the Montgomery Ward Auto Club and a year of floor sales at Marshall Field's, every job he's had has been in the world of cargo transportation, on one side of the desk or the other.  He started part time, as a youngster, in the wine and beer distributorship of Louis Glunz Inc., where his mom ran the import desk.  He then joined her at Nettles and Company, a freight forwarder where he continued part time through both high school and college.  John then worked in the import departments at Phoenix International, Universal Transcontinental Corp, Wilson-UTC, Foreign Forwarding, and Schenker… then switched to the shipper-side of the desk, becoming Central Transportation Manager at UOP Inc, then freight buyer for Pentair Electronic Packaging, then a dozen years as regional trade compliance manager in Pentair's corporate law department, where he taught Customs compliance and managed other related import/export regulations as an internal consultant, before going on to do independent consulting as a trainer for DTTS Trade Compliance Seminars.
Journalism: John got his first taste of writing in high school, then dove into publicity for PRP, MSAP and other theatrical groups. As a very minor Republican party official (a precinct captain, campaign volunteer, and finally Milwaukee County Republican  Party Chairman) he wrote brochures and op/eds for the party, for candidates and political groups including local chapters of the Young Americans for Freedom, Independent Ethnic Americans for Reagan, and the Ethnic American Committee.  Having occasionally raised the roof at conventions and banquets, he is occasionally available as a public speaker (or roof-raiser) as well.  He started writing a regular column at Illinois Review in 2009, now producing approximately fifty magazine-length articles (2000 to 3000 words) per year, ranging from current events to history, from economics to foreign policy, and occasionally venturing into the worlds of humor and fiction, as with his Chicago Dictionary series, Greco the Mob Boss series, and of course, the Tales of Little Pavel.
Family:  John's parents, Fred and Marcella Di Leo, met at a Young Republican Club Halloween Party in Chicago, and were married in Chicago on a frigid February 3, 1962. They were actors, writers, cooks, conservatives, Catholics… they were tellers of jokes, and great party hosts in the days when parties were events… John and his sister, Mary Di Leo Poole, were blessed with the best of parents, the best of role models, the best of friends.  John married his wife Carolyn (nee Glitz) in Milwaukee in 1995; the lucky couple was blessed with three terrific children, Mary, Kathleen and Robert, now college students, all three of whom have followed in the acting  track so far, alongside plenty of other wonderful individual talents.  Their stories, of course, are yet to be told.
Thanks for reading!  God Bless!